Why Choose Us for Vehicle Transport
Service & Dependability

Competitive Pricing & Integrity
36 Million Miles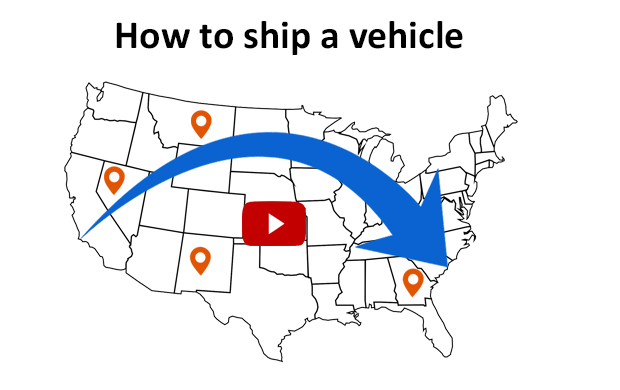 Did you cash in some market shares of tech stocks and put it on a car you only dreamed about owning in the past? After extensive online searching, you're now the proud driver of a vintage Mercedes Gullwing Roadster, but you've got to get it home.
Or if your daughter's a student at University of Nevada, Reno and she didn't have time to drive the Acura back to school, you're probably hunting a team of professionals to provide auto transport in Reno.
How long does auto transport take from Reno?
The length of time it takes for car relocation depends on where it is. And it's an organized, fairly predictable process. It's not random, like pulling the arm on a slot machine.
When shopping for auto shippers in Reno, check out their detailed timelines. We've got a chart that gives you a good idea what your job is going to involve, along with estimated arrival dates.
So, if your shipment is traveling from Reno to Dallas, according to the chart it will take approximately 4-7 days. But if your vehicle is headed to New York City it'll take at least a week or more.
But, first things first – from the time you call us, how long does it take until we pick up your vehicle? In the case of standard operating procedure, we can arrange pick up in 4-7 days. But if school's starting Monday and you've just GOT to get a car to your son at USC, let our Transportation Coordinator know and you can get our express auto transport in motion.
Deliveries can be delayed based on weather alone, especially in winter. If you ever ski at Mt. Rose or Incline Village you've seen what vehicle slow-downs look like.
How much does it cost to ship a car in Reno?
Did Grandpa have an old Model A and you want to bring it out from Pennsylvania? Classic car transport in Reno is best done in a closed carrier, which we gladly arrange. It does cost more, but maintaining the value of a treasure like that one is of utmost importance, so you probably want to choose transportation with walls.
Have you looked at auto transport companies in Reno, only to find there are hidden fees or incomplete information? Make sure you choose a transport company for cars that's been in business for a good length of time and seems competent and dependable. How does 30 years in the car business sound?
At Easy Car Shipping, we've got a comprehensive system. You can get a Quick Quote right now. Just input your information and the details of the car shipping services you need. The quote you get from us is good for two whole weeks!
A few factors can change how your quote looks, by the way. If you need a speedy delivery, or if you want a shorter window between pick-up and drop-off, you want to use express auto transport, which costs more. We've even picked up as quickly as 24 hours!
Is your vehicle in working condition? Or does it have unusual features, like oversized tires? Sometimes these kinds of details affect the price of auto shipping in Reno.
Is open car shipping right for me – or should I choose enclosed auto transport?
The type of transport you need has an impact on the price too. Do you need enclosed car shipping? The most cost-effective method for car transport companies in Reno is the use of open car carriers, and it's the most common. About three-fourths of individuals and dealers choose this option. These carriers haul anywhere from 7-10 cars at a time. So, for sending the family's minivan, or if you found a Honda Pilot on AutoTrader, an open trailer is the best option.
But enclosed car transport drivers take just 2-6 vehicles at a time, so your car is riding first class. Are you a car enthusiast with a Corvette collection? For exotic car transport, you want the specialized carrier. It includes more attention from the driver. And, of course, they aren't exposed to rain, dirt, snow, and wind, either.
The same goes for luxury car transport in Reno. You don't want your brand-new Lexus GS to arrive with a faded paint job from sun exposure.
We do motorcycle shipping and truck transport in Reno.
Maybe Reno's reputation for great gaming wasn't what attracted you to the "biggest little city in the world." Was it the golfing?
If you just bought a Yamaha G8 and want it shipped to your house, we offer golf cart transport to Reno, often for retirees making a permanent change.
Are you a member of NCOM or a veteran who loves to ride to the Wild Hogs Motorcycle Festival with your club? We can ship a motorcycle to Reno if you've decided you need to get a new bike from somewhere out of town.
Do you like mud truck 4-wheeling? Or do you have a business decision to make concerning your workhorse Dodge Ram? Are you moving and need to ship a truck from Reno? We can take care of it – just let us know.
You name the make and model – Honda Odyssey for the family? Ram ProMaster for work? If you've got broken down vans or just need them to be somewhere else, we can provide you with van transport in Reno if you need it.
Why choose Easy Car Shipping for vehicle transport in Reno?
Every car transporter in Reno has a different way of doing things. If you choose to hire us for your car delivery job, you're getting the highest level of proficiency, plus the follow-through to get the job done, regardless of the potential hurdles.
The Auto Museum is ranked one of the 10 best transportation museums in the nation by readers of USA Today. If you work for The Harrah Collection, you may be looking for high-brow, extremely dependable auto transporter service. We've provided thousands of requests for reliable auto transport in Reno.
You want someone on this detail who appreciates the million-dollar value to some of the vehicle shipping jobs. Our car shippers treat cars on every level, from a family heirloom to a rare British sports car, with the same respect.
The level of communication you receive when you ship a car in Reno through Easy Car Shipping is a cut above other transport companies. If you want feedback citing our experience and know-how, you can turn to our customer reviews. We've got a rating of 4.8 out of 5 stars, which means our clients are pleased.
Am I fully insured on the transport vehicle during auto shipping?
In the same way you wouldn't want to travel without car insurance, all of our drivers have proof of full coverage. You can put your mind at ease that in the rare case that something doesn't go according to plan, you have a policy in place and there's no deductible. No money out of your pocket!
We know how important this is to you, so we treat your vehicle like it's our own. All the paperwork is completed without fail, and we work out the details in advance to maximize a lack of drama in the process.
With Easy Car Shipping, you don't have to gamble. The odds are automatically in your favor because of our extensive experience with car shipping in Reno. Whether we're getting your wife's new convertible to her for an anniversary gift or a work truck on the proper site to get it working again, your pleasure with our service is our top priority.
Ready to Get Started?
Answer Just 5 Easy Questions
Instant Quotes
No Hidden Fees
Licensed, Bonded, Insured