Why Choose Us for Vehicle Transport
Service & Dependability

Competitive Pricing & Integrity
36 Million Miles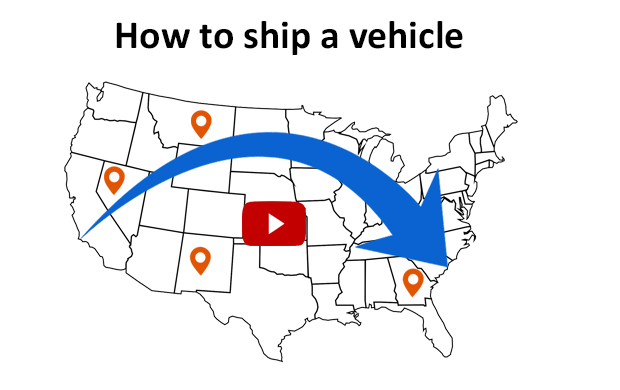 Are you moving to Charlotte? It's the soul of the South, but it's also the biggest city in North Carolina. Did you look for a transport company for cars, but come up short? Or worse, did you hire somebody who does car shipping in Charlotte who let you down?
Did you just land a job at Bank of America headquarters in Charlotte, so you're hunting down the best local car transport companies?
One way or the other, you need a professional team of experts who know how to do vehicle shipping.
How long does auto transport take in Charlotte?
Did you get a corporate transfer, so you're heading west? If your wife and kids LOVE their SUV they probably want to take it with them. Moving your whole family takes a lot of coordinating.
Let's say you're leaving the East Coast headquarters of Wells Fargo for the West Coast. For a car relocation from Charlotte to California the truck would travel up to 500 miles a day. But for shorter distances – say, a car delivery from Charlotte to Tampa would likely complete closer to 200 miles a day.
The length of time for auto transport from Charlotte depends on several factors. One of them is the time of year you ship a car. Winter can be tough if the car shippers have to go through Minnesota, for instance. And sometimes there are also holiday traffic delays.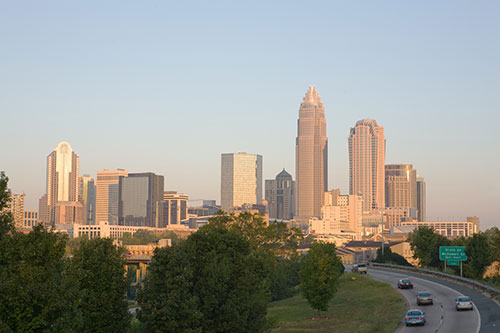 Do you need express auto transport? While standard service means we can usually pick up your vehicle in 2-7 days, the express service steps up the pace, sometimes scheduling pick-up in 24 hours.
How much does it cost to ship a car in Charlotte?
If you're like a lot of Charlotteans, you like a nice ride. So, if you bought a car at auction and need to get it home to Charlotte, the type of vehicle you chose may have an effect on your quote.
Did you buy a brand new Porsche, or a top-of-the-line Audi? If the vehicle's value is $70,000 or higher, we recommend you use enclosed car transport in Charlotte, which costs more. (See the next section about enclosed shipping.)
Do you need the car by a certain date? If you're planning a birthday bash, you probably want to use express auto transport. It costs more than standard shipping, but the car transporter can give you more control over dates of delivery.
We offer discounts: if you use car shipping services for more than one vehicle, and also if you're an active member of the military. Thank you for your service!
With the Easy Car Shipping Quick Quote system you get a 2-week guarantee. That's right, we stick with the quote we give you for, roughly, twice as long as most car transport companies in Charlotte.
Is open car shipping right for me – or should I choose enclosed auto transport?
With the Nascar Hall of Fame in town, you could very well be a big sports car fan. Do you drive a Ferrari or a Spyder? We do exotic car transport in Charlotte, if it turns out you just bought one from out-of-state or sold yours.
You definitely want to consider enclosed transport for these, and for luxury car transport. Vehicles of value need to be protected, and open carriers increase the possibility they'll be rained on or get a high level of sun exposure.
Are you selling your dad's roadster? If you have to send it to a buyer somewhere, we do classic car shipping from Charlotte, as well.
For the family's station wagon, van or SUV – the open carrier option is fine. Car shippers normally suggest you choose an enclosed trailer for certain cases, such as rare vehicles or ones with high emotional value.
Why choose Easy Car Shipping for vehicle transport in Charlotte?
When you look into auto transport companies in Charlotte check to be sure they have varied experience and have proven to be reliable auto transport.
Reviews on our website will give you the perspective of our previous clients. There's a reason why we've consistently maintained an average rating of 4.6 out of 5!
Because we've been in the car industry for three decades, we've forged important relationships and offer you our track record before you entrust one of your most important belongings to our care. We tend to foresee the potential roadblocks in the process, from weather to road closures, but we've handled them before.
We listen to you to meet your expectations, whether it's expediting your job or providing flexibility. You'll find that we stay in good communication with you throughout.
We do motorcycle shipping and truck transport in Charlotte.
Do you have a construction company and need some equipment moved to the Phase II site of a home builder's development? You can turn to us if you need to ship a truck in Charlotte.
Do you need to ship a motorcycle from Charlotte to your new home? Or did you find one through AutoTrader and need an auto transporter to get it home to you?
Do you live at the links and use your golf cart as daily transportation? If you ordered a new one we can offer you golf cart transport to Charlotte.
We also do van transport and SUV shipping if you need that. It runs the gamut – we provide auto shippers in Charlotte for cars the size of MINI Coopers to Hummers – you name it!
Am I fully insured on the transport vehicle during auto shipping?
Because car transportation is tricky, especially in congested areas, you want as much protection as possible. It's especially important to you if this is your livelihood. When you operate a business with delivery vans or have a fleet of trucks or cars, you're concerned about the bottom line.
Drivers have to be insured if they work with us. We cover that in your quote, so you're completely aware of the process in the unlikely event that something doesn't go as originally planned.
At Easy Car Shipping, we assure you that we've got an active policy with the trucking company, and we have the integrity to get the job done. We have follow-through and we stay connected with you throughout.
Whether it's shipping a new BMW to your house or you live out of state and need to get your daughter's Honda to her at UNCC, that's exactly what we do. We find out what you need and do what we can to make it happen. When you research companies that do auto shipping in Charlotte, pay attention to promises where you just know "that dog won't hunt." You want to see a clean track record so your car makes it past the finish line in perfect condition.
Ready to Get Started?
Answer Just 5 Easy Questions
Instant Quotes
No Hidden Fees
Licensed, Bonded, Insured