Why Choose Us for Vehicle Transport
Service & Dependability

Competitive Pricing & Integrity
36 Million Miles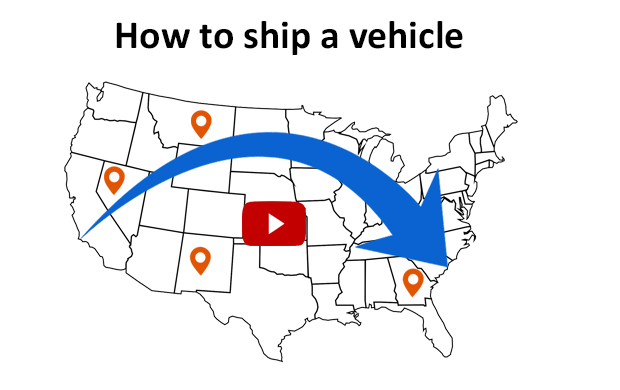 Are you a snowbird that's part of the Michigan Club spending your winters in Alabama? Do you want your SUV with you this year?
Did Dad leave you his Camaro and you're looking for safe auto transport to Detroit?
Exotic sports car or family hatchback, you want a dependable, experienced transport company when it comes to handling your vehicle and getting it someplace miles away.
For individual drivers and dealers with a fleet of vehicles, there are times when you need to get some wheels from here to there. That's when you want to find experienced auto transport in Detroit.
How much does it cost to ship a car in Detroit?
Even if you work for Chrysler, Ford or GM, it doesn't mean you have access to the best vehicle shipping values. Are you an engineer with a company transfer to Atlanta and need to start next week?
We can provide car shipping from Detroit to your new home, and pass on our Easy Car Shipping competitive pricing. After 30-plus years in the business, our industry contacts mean you've got lots of options.
How fast do you need car shipping services? You may need to use express auto transport, which costs more than standard shipping.
Your vehicle's condition can affect the price also. Does it have specialized features, such as a high roof rack or a lift kit? Oversized tires? These may affect your bottom line.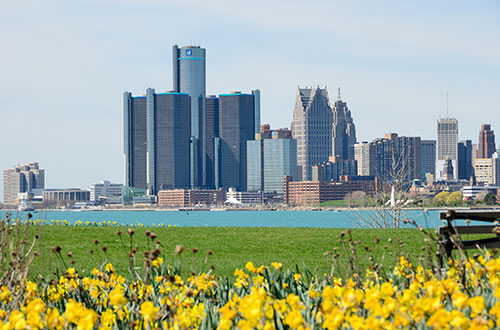 What model of car you're shipping may make a difference in your quote also. Are you a huge car buff and found that dreamy Lotus online, but it's in New York? For vehicles of value – about $70,000 and above – most car shippers in Detroit will strongly suggest enclosed car transport. There are fewer vehicles on the load and they're surrounded by protective walls.
Is open car shipping right for me – or should I choose enclosed auto transport?
The most common and cost-effective method for car transport companies in Detroit is the use of open car carriers. About three-fourths of individuals and dealers choose this option. They carry anywhere from 2-10 cars at a time.
The enclosed carrier is like enabling your car to take a first-class flight. They haul fewer cars and include more attention from the driver. And, of course, they aren't exposed to the rain and other weather either.

Are you a new snowbird who wants the family's Volkswagen Tiguan while you're in Florida? An open trailer is perfectly fine to transport cars at that level.
But if you're with Luxury Auto Group and need to ship a car from Detroit to a customer out of town, you want to strongly consider enclosed car transport. Owners needing luxury car transport or classic car shipping may want that added TLC. You don't want your BMW 320 or Targa to arrive with a layer of dirt or have the paint job faded from sun exposure.
Why choose Easy Car Shipping for vehicle transport in Detroit?
If you've done a lot of research before buying a new vehicle, make sure you also pay attention to the shipping details.
Did you win an F-250 at auction, but now you're faced with getting it to your house in California? You spent a lot of money on it, so you have to be choosy about auto shippers from Detroit.
At Easy Car Shipping, you're getting reliable auto transport. With our experience and know-how you can be confident your car delivery is in good hands.
Want proof? Check our customer reviews. We've got a rating of 4.6 out of 5 stars, which means we've got some happy customers!
Why do our prior clients believe in us? Well, for starters, it's easy. You can go online right now and use our Easy Car Shipping Quick Quote system.
Once you input your details, you get a price quote, and then we double down by guaranteeing that price for two weeks!!
We're with you, in constant communication throughout the car relocation process. Some of our customers hired other car transport companies who dropped the ball, and our dependable team managed to get the job done, much to their relief.
Are your circumstances unusual? No problem! We've got a wide range of industry contacts, enabling us to handle many of the hurdles that naturally come with vehicle shipping.
We do motorcycle shipping and truck transport in Detroit.
Do you live on a golf course and want your cart with you all winter? We provide golf cart transport from Detroit for a lot of snowbirds or retirees making it more permanent.
Are you in one of the Great Lakes riding clubs? If you've been looking online for a new Suzuki or a Ducati, we can ship a motorcycle to Detroit for you if you need it.
Do you have company trucks, or do you just love 4-wheeling? If you find yourself moving out of the area and need to ship a truck to a new location, let us know.
Do you work for Taubman and got a transfer out of state? If your family wants the minivan at your new place, we can provide van transport in Detroit.
If you're looking for a car transporter for a different type of vehicle, run it by us. We've shipped a wide variety, from tractors and small RVs to exotic car transport.
How long does auto transport take from Detroit?
When you look for a transport company for cars, see their detailed timelines. We've got a chart that gives you a good idea what your job is going to entail.
For instance, if you're sending a car from Detroit to Farmington, Maine, which is about 780 miles, it will likely take an auto transporter about 2-3 days. But, car shipping to Farmington, Utah, approximately 1,600 miles, could take 4-7 days, according to our online chart.
Are you flying out next week to start a new job in Virginia and you want your SUV there ahead of you? If you have specific needs about delivery timing, you may need our express auto transport service. We've even picked up as quickly as 24 hours!
Auto transport companies in Detroit can experience delays based on weather alone. As unpredictable as that can be, you can factor in the possibility of a longer delivery schedule if it's winter and your car has to get across the Rockies.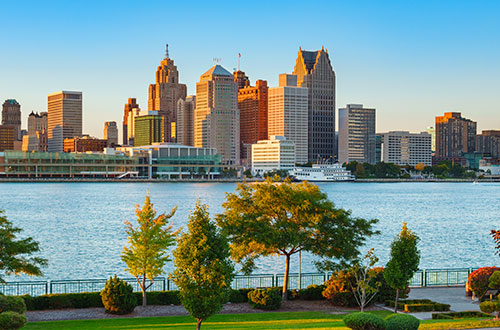 Also, car deliveries going to more remote locations, like Bonneville Salt Flats, Utah or Marfa, Texas, can take longer, because there aren't a lot of carriers going there.
Am I fully insured on the transport vehicle during auto shipping?
If your daughter goes to Wayne State and wants the Wagoneer, you can ship it with us and not worry about a thing. Rest assured, we don't contract with a driver without proof of insurance. Not only that, there's no deductible.
If you've been a driver for any length of time you know that, at times, stuff happens. In the case of Easy Car Shipping, almost every job goes smoothly. But in the off-chance something unplanned does come up, we want you to have the policy in place.
Whatever the occasion – new wheels for someone's birthday or just shipping the Toyota for a corporate transfer – you want full confidence when you need auto shipping in Detroit. At Easy Car Shipping we treat your vehicle like it's our own.
Ready to Get Started?
Answer Just 5 Easy Questions
Instant Quotes
No Hidden Fees
Licensed, Bonded, Insured